Sugar, Coffee Seen Joining Cocoa In Q4 Rally As Prices, Demand Turn
BY Barani Krishnan (Published on Investing.com on SEPT 20, 2018)
Sugar and arabica coffee seem ready to share the bullish spotlight with cocoa. This potential fourth quarter rally would come as exhaustion in their price downside occurs just before year-end festivities across the globe raise demand for such soft commodities.
"Low prices cure low prices and I think we have seen the lows of the year for sugar and arabica," said James Cordier, founding broker and analyst for soft commodities at Optionsellers.com in Tampa, Florida. He added:
"Cocoa has had a nice rally over the last couple of months and we don't see it going up a whole lot, but we do see sugar and coffee being good performers between now and the fourth quarter."
In the case of sugar, the front-month October contract in New York gained more than 9 percent after hitting 10-year lows, below 10 cents a pound a month ago, helped by charts indicating extreme oversold conditions.
It was the best performing commodity in the first quarter. Now, cocoa might be lucky to remain in the tenth spot the rest of the year after weaker grinding results and confectionery demand cost it its biggest tumble since 2011, suggesting no imminent price hikes, at least in Hershey (NYSE:HSY)'s products.
"The selling over the last couple of weeks has been dramatic," Jack Scoville at Chicago's Price Futures Group wrote ahead of the market's open on Wednesday, stressing "the need for a corrective rally".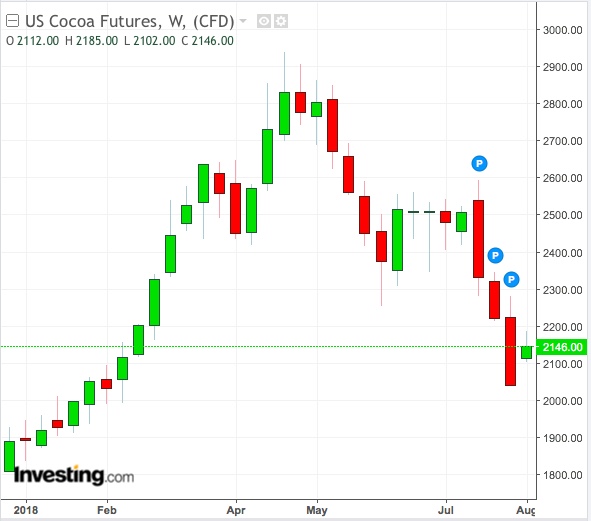 Cocoa futures did rise in the previous session, settling up 0.5% in New York. Scoville's argument for a bounce came after the market's 14% drop in July, its most since a 20% plunge in November 2011.
Thanks to a first quarter gain of 32%, the raw material for beverages and candy remains up 10% on the year. But compared to its top ranking for commodity returns in the first quarter, cocoa was now at the ninth spot, a Barchart analysis showed.
After cocoa's runaway first-quarter rally, Hershey reported that higher shipping and commodities costs would shave 1.25% from its profit margins compared with last year. But by the second-quarter, the giant confectioner said commodity inflation was "not a huge driver" anymore for costs.
Bearish Trend Extends
The market has also extended its bearish trend from July, sliding in four out of the six sessions so far for August.
And while the current month-to-date loss was only 0.5%, technical charts indicate things could get worse for cocoa before they get better.
Investing.com's daily technicals maintain a "Strong Sell" on New York cocoa's front-month contract for September, after the Wednesday intraday peak of $2,185 a tonne remained well short of the 200-day moving average of $2,295.12.
Fibonacci patterns, meanwhile, signal strong resistance at around $2,183, explaining September cocoa's retracement after it crossed that threshold by $2. Strong support was only expected at around $2,129, meaning it could drop another $18 from its last settlement of $2,146. The current front-month is also about $300 off from the 19-month high of $2,447.50 set by US cocoa in May.
"The market's turned spectacularly, in a way only cocoa can," observed James Cordier, broker and analyst at Optionsellers.com in Tampa, Florida.
"Like practically all cocoa rallies, the move up was overdone, speculative in nature and headline-driven. Now cocoa is probably trading closer to fair value; as a matter of fact, it's probably a $100 below fair value. But trend-following speculators continue to punish the market, selling it regardless what the fundamentals are," Cordier added.
Sellers Ignore Fundamentals
Fundamentally, first-half grind results in Europe and Asia should hold cocoa prices in good stead due to the higher cocoa powder and butter volumes they've produced. While cocoa powder goes into making almost every confection from chocolate to icecream, the butter, vegetable fat obtained from the grinding, is what gives them their smooth taste and velvety texture. Unlike other commodities that get depressed by higher supplies, the more beans are ground, the higher the prices cocoa fetch. European grinds increased by about 6% in the first half of 2018 versus the same period a year ago. In Asia, they rose about 10%.
But North American grinds by companies including Hershey, Mars, Barry Callebaut (SIX:BARN), Ghirardelli, Nestle (SIX:NESN), ECOM and Cargill, were down about 2% compared to the first half of last year. That, and benign weather for the global cocoa crop, which translates again into more beans than the ground product, gave market bears reason to short.
"Ideas that current weather conditions are good for the next crops continue," nurturing projections of big yields, said Price Group Futures' Scoville. "Showers and more seasonal temperatures have been seen in the last few weeks to improve overall production conditions in West Africa. Conditions also appear good in East Africa and Asia."
Recovery By Year-End?
So, can the market recover?
"Longer term, I think the grinding numbers are going to be supportive," said Cordier of Optionsellers. "And it could easily range about $100 to $200 more than where it is right now. If not now, we'll definitely see that happen in the third or fourth quarter."
ADM Investor Services seems to concur with that view, saying in a recent note that while momentum in cocoa remained bearish, the market was "now at oversold levels and will tend to support reversal action if it occurs".
Till that happens, candy makers will feel less pressure from raw material costs to alter their prices.
---